Staff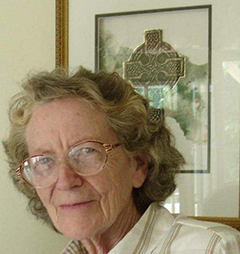 Sister Cecilia Reilly feels great joy when she sees people responding to God's love for them. She has a marvelous Franciscan spirit of hospitality as manifested by her warm, prayerful, calm presence of peace and gentleness to all. Aisling is blessed by Cecilia's lovingly prepared meals and her tenderness to all God's creatures including cats and birds.

Cecilia is a spiritual director and retreat presenter. She is a graduate of Notre Dame of Maryland University and has a Masters Degree from Duquesne University. She also has advanced studies in Franciscan Spirituality and contemplative prayer forms.

Her past ministries include teaching elementary students in the inner city of Richmond, Virginia and high school students in Pittsburgh, PA. She also ministered for 6 years at Iosagan, a home for abused children. In addition, Cecilia served for 9 years as the major superior within her Franciscan congregation. Presently, she is the Spiritual Advisor for the Secular Franciscans in Hanover, PA.

Sister Eileen Quinn delights in inviting others to experience God's exquisite love by integrating the human and divine within their graced spirit. A lover of the Mystics and Celtic Spirituality, Eileen rejoices in helping others open the lens of their seeing in order to live with passion, gratitude, beauty and joy. Aisling is blessed by Eileen's joyous spirit and compassionate heart as well as her decorating skills, gifted writing and presentations that are rich in creativity, vision and humor.

Eileen is a licensed clinical therapist, spiritual director and workshop/retreat presenter. She has both B.S. and M.S. degrees in psychology from Columbia University. She holds additional Masters degrees in theology and family therapy from Catholic University. Eileen is a graduate of the Shalem Spiritual Guidance Program and has a Doctorate of Ministry in Spirituality.

Eileen taught psychology full time on a college level and spent 6 years working as a family therapist in the inner city of Baltimore. She has served many years in congregational leadership as both a council member and formation director.

Sister Mary Therese White is energized by helping people discover the God who has always been with them and deepening their relationship in meaningful ways. She has an unassuming, authentic loving presence and spirit of helpfulness. Aisling is blessed by Mary Therese's beautiful visual presentations and her clarity of thought and spiritual focus.

Mary Therese is a certified spiritual guide, retreat leader and workshop presenter. She has undergraduate and graduate degrees from Loyola University, Maryland and a Master's degree in Theology from Washington Theological Union. She also has a Certificate in Spiritual Guidance Training from An Croi (Of the Heart), an Irish wisdom learning institute.

Mary Therese's past ministries include work with developmentally disabled youth and abused children. Over the course of 20 years, she served in two parishes as a Pastoral Associate. This parish ministry included Religious Education, Adult Spiritual Formation, RCIA and Pastoral Care. Sister MaryTherese also served as the Major Superior within her Franciscan religious congregation.